Wednesday, November 28, 2018
You're not the only one looking to set resolutions in the new year. Designers seek their own refresh as we approach January 1, and there are certain 2018 trends they're totally over by now. To find out which looks we'll be seeing everywhere in 2019, House Beautiful spoke with five interior designers to discuss bedrooms, kitchens, and living rooms. Spoiler: The new year is looking bright. Quite literally.
---
OUT: Bedroom accent walls
IN: Textured wallpaper all around
A pop of loud color or bold wallpaper behind your headboard? Next. "Instead, try to elevate the space as a whole with a subtle textured wallpaper. It's enough to add that pop you want, but with a better sense of cohesiveness that doesn't overdo it," explains Lauren Evans, an elite designer at Decorist.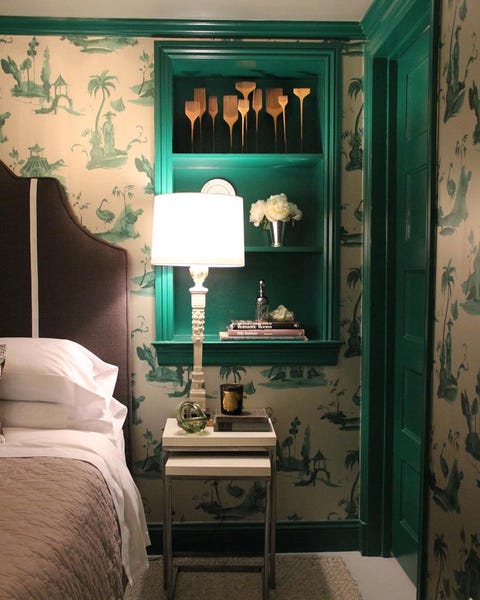 OUT: Store-bought wall signage
IN: Colorful art or photographs
"Signs like 'dream' or 'romantic' make your room feel the exact opposite—any room with those signs is not a dream," says Decorist celebrity designer Jonathan Rachman. Instead, he urges people not to fear colors and patterns on their walls. "Commit to a wallpaper you love, and yes, you can put art or photographs on that wallpaper," he explains. Jonathan says doing this will create a room that feels uniquely yours, and not store-bought.
OUT: Simple cotton bedding
IN: Extravagant linen and velvet bedding
Are you sensing a pattern yet? Designers are sick of all the basic. Jessica McCarthy, designer and creative director at Decorist, says she's seeing more and more bedding with textures. "Stonewashed linen comes in many patterns, colors, and looks great without being ironed or steamed. It's low maintenance that still looks elegant and sophisticated," she says. Jessica also says there's an uprise in crinkled, crushed, and quilted velvet duvets. "These create a luxe and lustrous setting, quite the opposite of anything simplistic and minimal." FYI: I just snagged a blush velvet quilt for 40 percent off at West Elm, and it transformed my room.
---
OUT: Mass produced cabinet knobs
IN: Handcrafted leather pulls
"With almost all trends we're seeing in 2019, simplistic and minimal is no more. Instead, embellished, hand-crafted and maximalist is on the rise," says Jessica. She says she's especially seeing this in the kitchen space, and next year we'll be seeing a lot less subway tile and much more painted backsplashes. "The same goes for hardware. The modern look of chrome, brass, and rose gold hardware will be replaced with leather pulls in different shapes and sizes," she says. "Everyone is craving to have their home feel much more distinctive with special characteristics that feel totally unique to them."
OUT: One color palette
IN: Colorful curations
"For years, kitchens have been minimalistic and simple, clean, and almost clinical," says Decorist celebrity designer Tamara Honey."This next year will bring a wave of more personalized kitchen designs, ones that feel collected and blend seamlessly with over living spaces in the home," she explains. "Think: vintage rugs, open or glass cabinets with cookbooks, collected dish wares and other pieces from travel."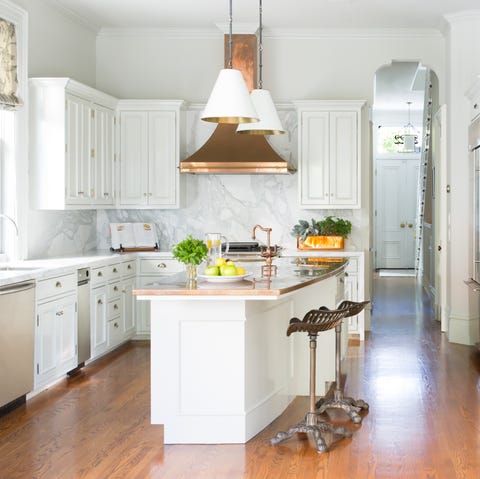 OUT: Matching metals
IN: Mixing metals
"A kitchen trend I'm ready to see out the door is matchy matchy metal finishes," says Decorist Celebrity Designer Max Humphrey. "I know some designers insist on the faucet matching the hardware and the light fixture finishes and the barstools, but I like a mixed up look," he says. In a recent project, Max used a polished nickel faucet with satin brass knobs on the cabinetry. "Guess what? It looks awesome," he says. "Bonus points if you can mix in a third metal finish without the space looking totally haphazard."
---
OUT: Furniture sets from the same store
IN: Mixing and matching
Gone are the days where you'll see furniture sets that share one name (or manufacturer). "Unless you want your living room to look like a showroom, matching furniture is generic and boring," says Jonathan. Instead, he says to make your living room all about you. "Collect furniture as you go along, and don't be afraid to mix and match using various pieces from different periods, or your family heirlooms. Besides being charming, it's always chic to show your personal style."
OUT: Plain ceilings
IN: Designed ceilings
"Designers have begun to give attention and mindfulness to what is above us," says Tamara. "For the new year we predict there will be an advancement in attention to detail, and not just through the living room but throughout the whole home," she says. Think paint, wood clad, wood beams, wallpaper, and more.
OUT: Simplistic furniture
IN: Art deco furniture
"What goes around comes around, especially when it comes to design periods," says Jessica, who thinks art deco is on the rise. With the simplistic lines of mid-century modern, art deco incorporates more glamorous materials and patterns. "Art deco style is playful and opulent yet sensible. We'll see it taking over sofas, lighting, case goods, and accessories.